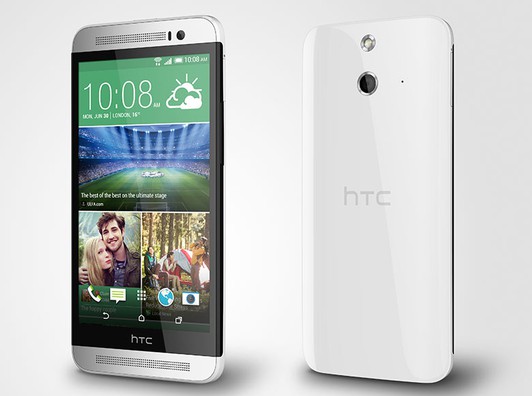 Recently, HTC's flagship smartphone line has been replenished with the long-awaited One (E8) device. The difference from the previous model One (M8) is, first of all, in the plastic case. This allowed the manufacturer to offer a new device in a fashionable color scheme: the red, white, and blue colors of the case have a glossy surface, and the black is matte.
If we exclude the external entourage, then the contents of the new E8 are not inferior to the M8. The heart of the device is a quad–core Qualcomm Snapdragon 801 processor, RAM has a capacity of 2 GB, built-in - 16 GB, an additional slot is capable of accepting a memory card up to 128 GB. A large 5-inch screen with high resolution gives a clear and clear image. The battery capacity of 2600 mAh is enough for a whole day of intensive operation. The smartphone is equipped with a modern version of the Android 4.4 KitKat system and a proprietary Sense 6 shell, which will ensure the availability of updates for a long time.
An important difference: the E8 has two cameras instead of a double one, as in the M8. The resolution of 13 MP with BSI, with autofocus and flash give a high-quality image of photos and videos, while the 5 MP front camera easily makes Skype communication available.
One (E8) is announced as a device that supports working with two SIM cards. The possibility of working in the popular LTE mode is kept silent by the company, but it is likely that in the mode of working with a single SIM card, the 4G network will be supported by the device. It is worth noting not only the powerful content, but also the fashionable design of the device, and BoomSound front speakers, and support for gesture control, and the presence of a branded case, whose design has already received an award at Computex.
The start of sales of the smartphone is scheduled in China, the likely price is about 15630 rubles.