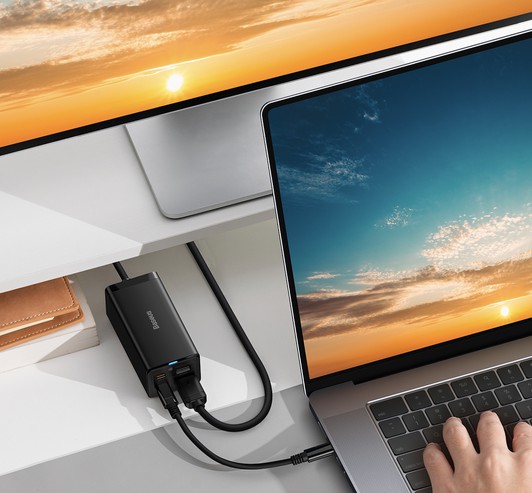 For the past months, Baseus has consecutively come up with different hybrid chargers and power strips in a format without any predecessor. Today's main man is a little different but the product's concept remains the same. As a GaN charger, the Baseus GaN5 Pro 67W Hybrid Hub Desktop Charger Baseus GaN5 Pro 67W Hybrid Hub Desktop Charger houses 2*USB-C ports that support up to 67W PD fast charging for laptop or other electronics requiring power within 67W. When using both Type-C ports, with the help of BPSⅡ Baseus' self-developed power split technology, they share the power and it is splitted to 20W from Type-C1 and 45W from Type-C2.
As a hub, a standard USB-A port is designed to connect your mouse, keyboard, to import files from a USB flash drive, phone, and other external storage. In addition, an HDMI port is given that allows you to extend your laptop's screen on a monitor. The max output resolution supported by the HDMI port is 4K@30Hz to enjoy a pixel-perfect 4k content without lag. Yet, is it fundamental to keep the knowledge in mind that all involved accessories must all support 4K@30hz output to achieve it. That being said, your laptop's USB-C port, your HDMI cable, your monitor or display must all be qualified.
By integrating GaN, and merging the function of charger and hub together, Baseus achieved to make this product much more compact without compromising all performance of a PD fast charger and hub. For anyone hearing about GaN for the first time, the benefit of making power brick with GaN materials (Gallium Nitride) is that it enhances the charger's heat control, allows to reduce sizes without sacrificing performance, and is safer to use.
Features:
Dual Type-C port supporting 67W charging, splits to 20W & 45W when using 2 at a time
Standard USB-A port connect peripherals or to import export files from external storage
4K@30Hz HDMI port to extend laptop or switch gaming console on monitor
Compact and easy-to-carry design for business trip
BSPⅡcharging technology, smart power allocation according to device plugged in
GaN5 technology, small size, enhanced heat dissipation and safer to use
Buy now: https://www.aliexpress.com/item/1005004799179508.html
About Baseus
Founded in 2011, Baseus is an industry-leading consumer electronics brand integrating design, research and development, production and sales. Baseus operates and creates products highlighting "Practicality & Aestheticism". By 2021, Baseus garnered 96 international industrial design awards including Reddot, IF, iDEA, Golden Pin, G-Mark, and Pentawards, whilst amassing up to 1325 patents. For further approach, visit https://www.baseus.com/