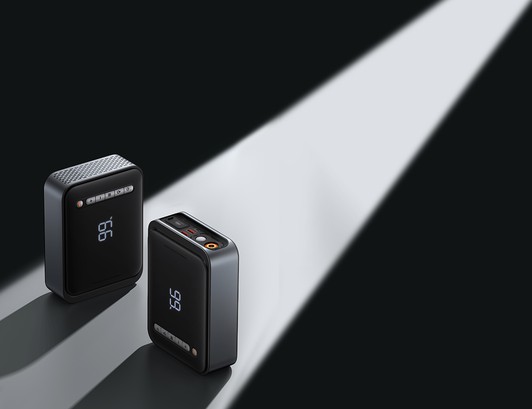 With the fast development of the car manufacturing industry, enormous demand for automobile accessories has urged which accorded the chance to great electronic brands like Baseus to enrich their product line.
Baseus just rolled out a new 2-in-1 versatile multitask jump starter with the function of an air pump, power bank and emergency flashlight designed to save you and I from almost any emergency we could encounter on the road.
1000A Jump Starter
Not everyone is familiar with specs and terms on cars, in a simple language, if your 12V diesel or gasoline car's battery is dead, the 1000A jump starting feature allows to boost the car instantly even if the battery is at zero voltage to save you from the emergency on the way including under bad weather conditions of -20°C cold or up to 60°C ambient temperature.
Whether you are a veteran or have never used this type of device, this Baseus car jump starter has 11 thoughtful battery protections and a smart detection that sends faulty operation alarms alerting you if the clamp is clipped to the wrong polar of the car's battery for your safety.
Effortless Tire Inflating
If you are recently planning a long distance drive, this 2-in-1 jump starter coming with the function of a tire pump could be the best thing to have aside even though I hope that everyone never has to use it in their life. It was designed to pump up a car tire in just 6 minutes with the preset value of 2.5BAR saving you any manual configuration required. For those familiar with how to use a tire inflator, the value could be manually adjusted from 1.8 to 2.8BAR. More than just for cars, the default value for motorcycle tires is 2.6BAR, which is also adjustable from 1.8 to 2.8BAR. For bicycles and balloons, it is 8.0PSI by default and adjustment range is from 7-9PSI.
Instant and Intuitive
One of the most thoughtful pieces of engineering is how easy is this product to use with the help of its LED display showing the battery percentage in real-time, the predefined one-key tire pumping, the auto-stop-inflating when the tire is full, and the emergency mode flashlight, definitely a saver.
Portable and Airline Safe
In addition to adopting the nature of a jump starter and tire pump, this device could also be used as a power bank to charge your phone and other portable devices, such as an iPad. Its compact design and tailored capacity allows people to slide in their hand luggage and travel with it around the world.
Again, I hope that none of us will ever have to use this kind of product, but it could be really helpful as our living experience has proven that life comes with lots of uncertainty.
Now, the product is available for purchase on AliExpress at a price of 25% OFF.
Shop now: https://www.aliexpress.com/item/3256804466824308.html