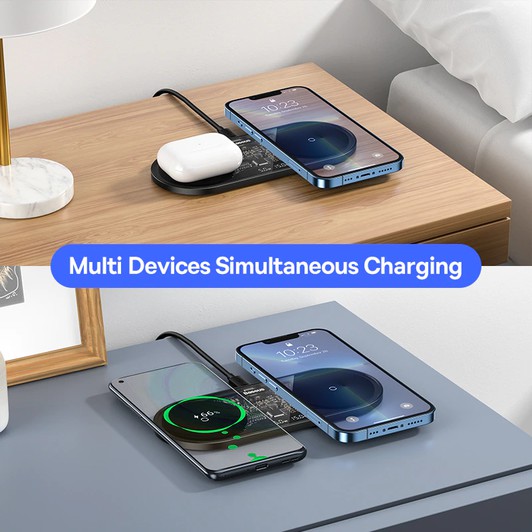 There are at least two smartphones in the modern family. As well as a lot of accessories for them. For example, wireless headphones. This means that a large number of annoying wires that endlessly get confused, get lost and break.
But now this problem has been solved, since Baseus has released a new wireless charger: Baseus LED Digital Display 2-in-1 Wireless Charger. It is designed for simultaneous charging of two smartphones with QI technology support (the phone is charged when in contact with the platform), in particular, the latest models of Apple (iPhone 12, 13), Samsung and Xiaomi, as well as simultaneous charging of a smartphone and wireless headphones Airpods Pro.
You no longer need to worry about the safety of wires and charging ports, charge your smartphone with one hand movement. All you need is to put the discharged phone on the platform and pick it up fully charged after a while.
The new device looks extremely advantageous in its design and functionality against the background of competitors. The unique pleasant hi-tech design will fit perfectly into any interior due to its modernity. The charging case is made of high-quality anodized aluminum and polycarbonate. And the upper side is made of tempered glass. There is an operation LED on the front panel. Also, unlike previous versions, this model has a dual display (for each platform), on which you can view the charging parameters in real time.
The device has anti-slip silicone foot pads and is stably positioned on any horizontal surface. As well as compact dimensions (17 by 7 by 0.7 cm) and extremely light weight – 190 grams.
There are two charging platforms on the upper side of the charging station. They are arranged in such a way that charging devices, despite their size or model, do not interfere with each other in any way.
Despite the small thickness of the case, only 7 mm, the device is equipped with an efficient heat removal system.
The model has a high power – 15 watts. This power of the power supply is enough to charge an iPhone with a power of 7.5 watts, or an Android device with a power of 10 watts. Charging is carried out quite quickly, a full battery can be reached in 3.5-4 hours. At the same time, the case of the device does not heat up, and charging remains fast even when two smartphones are connected at the same time. The device also supports the fast charging function.
Baseus LED Digital Display 2-in-1 Wireless Charger operates according to the Qualcomm Quick Charge 3.0 standard. This allows you to transfer energy between coils at a distance of up to 8 mm. That is, neither the case nor the case material will interfere with charging your gadget.
Each of the devices is charged with its own coil. A special controller is responsible for security measures. It not only determines the required power for each gadget, but also automatically turns off the charger if there are foreign metal objects on its surface or a smartphone that does not support QI technology.
On the back surface of the model there is a special hole for the USB-C cable, which is included. Its length is 1 meter. Using this cable, the charger is connected to a power source. This means that you can use it not only at home, but also outside, because charging can be safely powered, for example, from a laptop.
In conclusion, I would like to note that Baseus has long won a reliable position in the market of accessories for mobile phones. This is facilitated by: a large assortment, the constant introduction of innovative technologies into the products, attentive attitude to consumers, the quality of the goods produced. In addition, all products are multifunctional and have a modern, pleasing to the eye, thoughtful design.
The new model of Baseus LED Digital Display 2-in-1 Wireless Charger is definitely worth the money you will pay for it. The charger is of high quality, works stably and efficiently charges multiple devices simultaneously, both iPhone and Android. It is reliably protected from overheating and leaves only pleasant impressions when used.