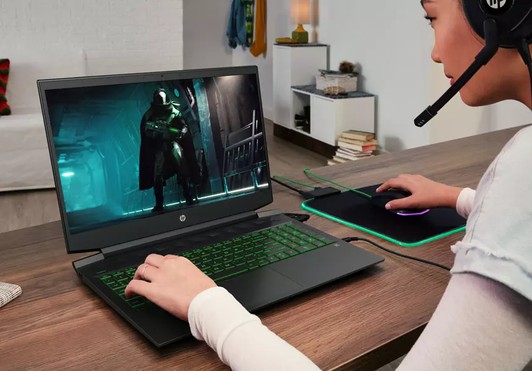 Among the many shelves with laptops for games, hp gaming laptops from various manufacturers, quite often buyers pay attention to the old, classic brand – HP (Hewlett-Packard). Are there really decent options for gamers from HP today, let's figure it out.
What can the HP brand offer us in the field of gaming technologies?Many advanced HP laptop models with excellent graphics reproduction are equipped with high-end components.
And depending on the needs and budget, you can choose a suitable laptop for games. The manufacturer himself identifies several series:Essential, Stream, Pavilion, Envy, Spectre, ProBook, etc. All of them have different performance and purpose.
In 2019, HP pleased gamers with the release of an interesting series of gaming laptops with a different name Omen X 2S. Their main feature was the presence of another small display next to the keyboard. A large number of configurations of such laptops contributed to the creation of a wide range of price categories. If possible, a game lover could get the most powerful "computer monster", for example, with an 8 core Core i9 and RTX 2080, and the most non-fancy gaming laptop in the Omen series.
Advantages of gaming laptops HP.Advanced and novice gamers choose HP Omen gaming laptops due to the following advantages:
Its functional ability perfectly copes with many game tasks.
The mobility of a laptop as opposed to a stationary PC. The small weight of the models from 2 to 3 kilograms allows you to stay "in the game" wherever and whenever you want.
The presence of a balanced cooling system. These laptops do not make noise even when the highest settings are turned on. Not all manufacturers can boast of this.
Pleasant acoustics of the speakers. Surround sound users will certainly appreciate with the soundtrack of games.
A decent and comfortable keyboard with a short stroke of buttons. Responds quickly to key input.
Monitor resolution with a high number of Hz. This allows the eyes not to experience a heavy load.
Models with integrated Intel Core i7 and Core i9 processors allow you to compete even with the most sophisticated stationary PCs for games. These models pull many games.
A large number of ports for all occasions.
A short time of full charging, the battery lasts about two hours to get the coveted figure of 100%.
Duration of operation without battery. From 8 to 6.5 hours, users claim is the battery life.
Given the large number of advantages, today HP Omen laptops can be safely called the best gaming laptop in terms of price and performance.