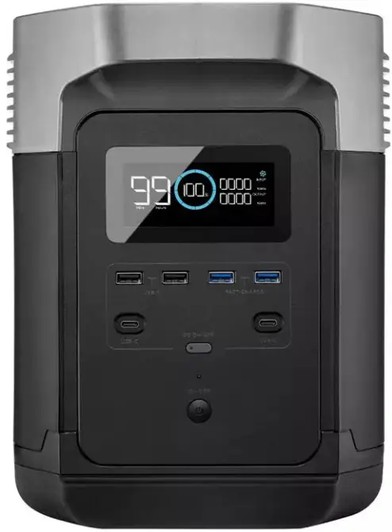 The electricity was turned off again, and the food in the refrigerator went bad? Are you going to hike in the mountains and have no idea how to live without the ability to charge your phone? Were you planning to work in the garden, but the extension cord from the house does not reach in any way?
If you have ever been in such a situation, then you definitely should purchase an EcoFlow DELTA charging station. This is a completely new technology, a very light and compact battery-powered generator that can be easily combined with a variety of devices from a robot vacuum cleaner to a punch. And in case of an unforeseen situation, the station will even be able to recharge your electric car for an additional 7-8 kilometers.
You no longer need to worry about the lack of electricity, with EcoFlow DELTA you can power your appliances anytime and everywhere.
The main advantages of the EcoFlow DELTA charging station are:
a powerful battery with enough charge for a long period of time;
Fast charging: Thanks to the latest EcoFlow X-Stream technology, this generator station has the fastest charging among all currently existing stations, it is able to charge the device from 0% to 80% in less than an hour.
it powers absolutely any device, including large household electrical appliances and energy-intensive construction tools, thanks to the large capacity of 1.2 kWh and the output power of the inverter;
fits to any port of any device, has a variety of wall sockets and DC sockets, as well as USB;
11 different devices can be connected to the station at the same time;
the station can be charged using solar energy, solar panels and bright sunlight are needed for this, charging in this way will take about 4 hours.
EcoFlow DELTA will qualitatively help you out in case of a power outage in a house or apartment. Its power is enough for:
8 hours of uninterrupted TV operation;
7.5 hours of refrigerator operation;
2 hours of operation of the washing machine or electric stove;
1 hour of operation of the microwave oven.
And it can charge a laptop 16 times and a phone 87 times. It's just perfect for long hikes.
Included with the charging station is a convenient bag, two charging cables: normal and for the car, a warranty card and an instruction manual.
The device is made of aluminum and high-strength steel, these materials provide increased strength and a long service life of the device.
You can order EcoFlow DELTA on the website of the Norfin online store. The company delivers throughout Ukraine. You can pay in cash or by bank card. You can also transfer the payment in parts.
Upon receipt of the order, you will have 14 days to return if the station did not suit you for some reason. You can also pay after receiving, making sure that everything is in order with the goods.
Order an EcoFlow DELTA charging station right now and you will never feel away from the grid again. Follow the link: https://norfin.com.ua/zaryadnaya-stantsiya-ecoflow-delta-1260-vtch /