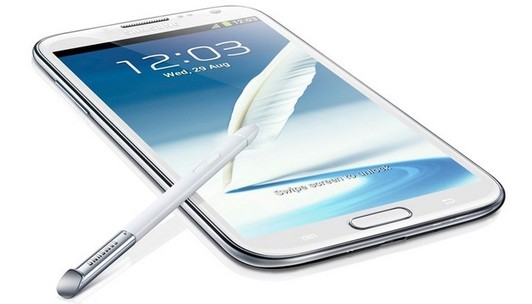 In connection with the statistical research of the Svyaznoy company, it was revealed that over the period of one year from 2012 to 2013, sales of tablet phones increased – these are smartphones with a screen diagonal of more than 5 inches. In another way they are called phablets (phablets) or supersmartphones (supersmartphones).
In November 2011, the Korean company Samsung offered the first tablet phone to the global sales market. We are talking about the widely advertised GALAXY Note. Two years later, there were up to 27 models of tablet phones on the Russian market, and according to the results of a study of the third quarter of 2013, their number increased to 50 types and more.
This expansion of models created healthy competition in terms of "price-quality", which made it possible to reduce the amount in the average receipt for the purchase of a tablet phone by 29% and bring it to 16,286 rubles. This began to contribute to the growth of sales of these devices. So, for the whole of 2012, 146 thousand "smart phones" were sold in Russia. Whereas in the third quarter of 2013, sales increased by 736%, and the number of tablet phones sold increased to 185 thousand. The monetary amount of sales in July-September 2013 increased by 654% more than in 2012 and reached 3.4 billion rubles.
In the first place in sales are Samsung devices – 40% of the Russian market, in second place – SONY - 19%. However, B-brands are becoming increasingly popular with customers: the third place is occupied by Explay tablet phones – 8% of the total electronics sales market in Russia. The remaining 33% is occupied by other less well-known companies.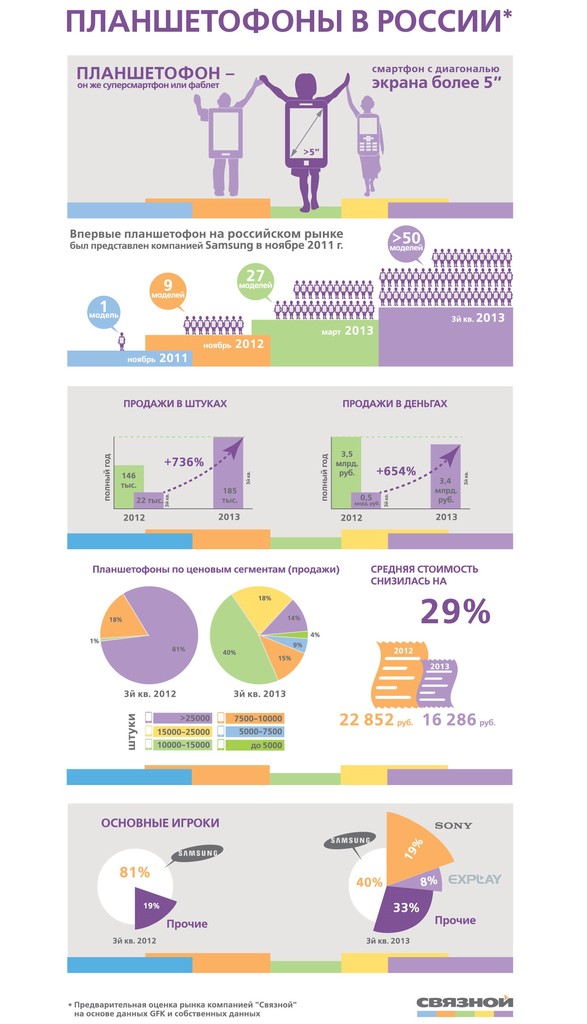 This allows customers to make a choice between a device of a well-known brand and a little-known, but no less reliable one. Therefore, currently the average price of the best-selling tablet phones ranges from 10 to 15 thousand rubles. Similar devices worth up to 5 thousand rubles accounted for 13% of the total sales market. Sales of devices over 25 thousand rubles fell to 14% in 2013, whereas in 2012 they amounted to 81%.
The most famous models in demand among buyers in the Svyaznoy store chain are Samsung GALAXY Grand Duos, GALAXY Mega 5.8, Lenovo K90, Huawei Mate, Explay Communicator and the new Sony Xperia Z Ultra.
The popularity of tablet phones is ensured by the fact that both a tablet and a smartphone are combined in one device, so there is no need to painfully choose what is better to buy. Moreover, the prices and choice of tablet phones are quite attractive for the average buyer. The number of models is steadily growing, which contributes to increasing demand and creating healthy competition among gadget developers.