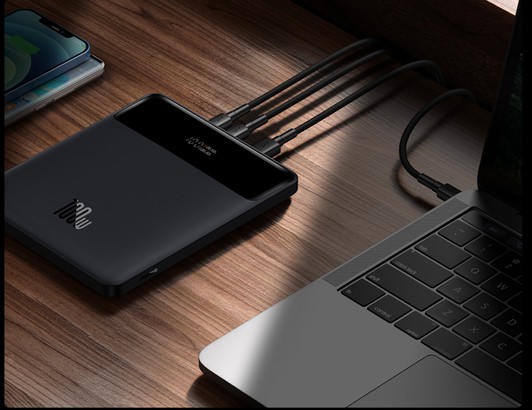 Baseus has released three new chargers designed for fast charging of the new Apple laptop and other powerful devices.
Hybrid extension cable GaN 100 W PowerCombo.
Due to the rapid development of technology, the number of electronic devices on our desks is constantly growing. Computer peripherals, wireless chargers for smartphones, charging for smart watches, all this increases the need of users for a universal power source. Such a source will be the Baseus 100W GaN charging extension cord.
The device is equipped with two USB-C ports and two USB-A ports. All four ports support fast charging with an output power of up to 100 watts. The extension cord also has an AC outlet. Such a number of ports gives the user the opportunity to simultaneously charge a laptop, smartphone, wireless charger, AirPods and, in addition, use the monitor by connecting it to an AC outlet. And all this through a single hybrid extension cord.
The built-in main chip is based on GaN technology and is made of gallium nitride. Due to this, constant charging efficiency is ensured due to rapid heat dissipation.
The device is designed in a minimalist style, has a small size, all this makes it an ideal addition to the desktop.
Separately, it is worth mentioning thoughtful security measures. The socket has a special design that provides protection from children. The built-in smart chip protects the device from overvoltage, short circuits, overcurrent, excessive discharge and overheating. Another thoughtful engineering solution is that the charging ports are separated from the AC outlet.
GaN Boost 140 W, independent charger with fast charging function.
Every year gadgets become more and more high-tech, which in turn leads to the fact that they consume more and more energy. In order to help users solve daily problems with the power supply of devices, an independent charger with the Baseus 140W fast charging function has been developed.
The device is equipped with two USB-C ports and one USB-A port. USB-C ports are compatible with several fast charging protocols, in particular, PD 3.1, QC4.0/3.0, PPS from Qualcomm, as well as SCP from Huawei. This makes this charger suitable for most devices: from laptops to smartphones. If there is simultaneous charging of several gadgets, BPS 2.0 (Baseus power sharing technology) redistributes power and provides optimal speed for each of them.
The device is equipped with a smart chip based on GaN technology. This technology allows Baseus to make its devices compact, especially in contrast with other chargers of this power level.
Laptop Charger Blade 100 W
Gadgets have long been a part of our daily life. Unfortunately, they have one unpleasant feature, they need constant charging and often discharge completely at the wrong time.
Therefore, for those who work out of the office most of the time or constantly make business trips, the Baseus 100W laptop charger is, without a doubt, a thing that should always be with you.
With an output power of 100 watts, this device will allow you to charge almost any laptop, including the new M2 MacBook Air. The charger has two USB-C ports that support fast charging, with an output power of 100 watts. And it also provides fast charging with an input power of 65 watts, to recharge the device itself. There are also two USB-A ports that allow you to charge multiple devices at the same time.
A distinctive feature of this product is a large LED display. It shows the percentage of battery charge, the speed of fast charging, the estimated time remaining until your gadget is fully charged or the charger itself is fully charged.
And the orange lightning icon will instantly tell you whether your device supports fast charging or not. This is quite an important function from a practical point of view, which is rarely present in similar devices. This display is a hallmark of most Baseus chargers.
New Baseus devices they are definitely the best power sources for laptops. In addition, their important advantage is that they are compatible with any devices.