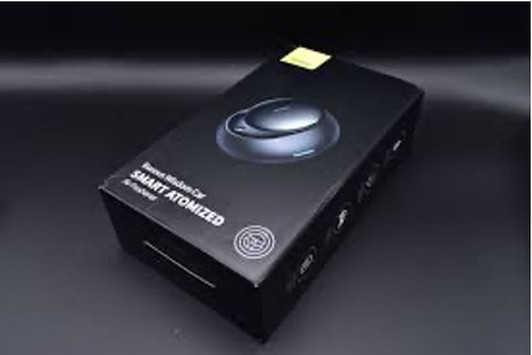 To make your car trips pleasant and comfortable, you need to take care of a pleasant smell in the cabin. The Baseus Wisdom Car Smart Atomized car fragrance sprayer will help you with this. Today we will make a review of it.
The fragrance comes in a nice big box. In addition to the device itself, a number of additional accessories are included: a charger, replaceable cartridges with liquid filler, instructions in Russian and a warranty card.
The black case is made of aluminum, plastic and polycarbonate. The size is quite compact: 80x24x12 mm. On top there is a small round part with a corporate logo – a control element with which you can adjust the intensity and frequency of steam. There is a hole for its exit nearby.
You can also control the device using a mobile application, pairing with the device is instantaneous.
The model is equipped with a capacious battery, 700 mAh. Its status is indicated by a light indicator. Full charge time is 1.5 hours.
The device is very compact, installed in the air duct and, due to the thoughtful design, perfectly harmonizes with any car. The gadget is activated when the car is in motion, and goes into sleep mode when stopped.
The model works with liquid fillers that do not contain alcohol. The cartridges are reusable, after the liquid has evaporated, you can fill them with your favorite essential oil.
Of the positive aspects of this flavor , it is worth highlighting:
instant air freshening: the fragrance spreads very quickly;
possibility of long-term use without recharging: after a full charge, the device can work autonomously for about 60 days;
Stylish design: small size and elegant body;
Mobile app support: you can control the fragrance both manually and from your smartphone, adjusting the intensity of the fragrance and the duration of spraying;
light refreshing and unobtrusive scents: the set includes cartridges with three types of scents (freesia with tangerine and basil, rose, freesia with wild hyacinth);
naturalness and environmental friendliness: the fragrance is safe for children and pregnant women.
Thus, Baseus Wisdom Car Smart Atomized is a very convenient gadget that will not only refresh the air in the cabin, filling it with a pleasant aroma, but also decorate the control panel.