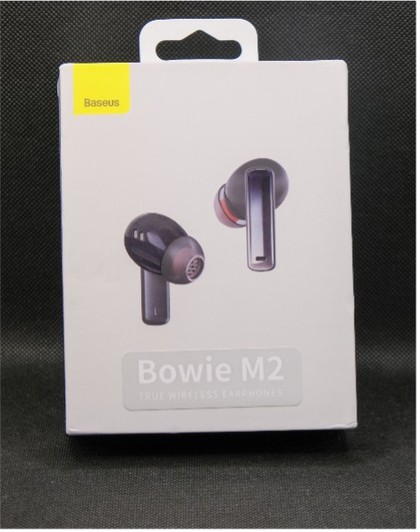 Today we will review the new Baseus Bowie M2 wireless headphones. The model is packed in a stylish large box. In addition to the headphones themselves, the kit includes a charging case, a charging cable, detailed instructions in Russian and spare ear pads.
The headphones are very compact, about 3 cm in length, made of plastic. There are charging contacts at the bottom, and on the back there is a touch panel with a microphone hole.
The charging case is also made of plastic. On its front side there is a light indicator informing about the charge level. There is a charging port at the bottom.
You can listen to music offline for about 5 hours, using the case, this time increases to 20-25 hours. In the case, the headphones are fully charged in 20 minutes.
The headphones are paired with a smartphone via Bluetooth 5.2. The connection is almost instantaneous (with a delay of 0.0038 seconds). By default, the SBC codec is set, but if desired, it can be changed to AAC. It is also possible to connect two devices simultaneously.
You can control the device through a proprietary application, where the operating mode is set: normal, noise reduction or transparency, as well as settings for any noisy situation. You can also switch modes by double-clicking on the touch panel of the headphones.
The headphones are equipped with a hybrid noise reduction system that removes all unwanted sounds in the range of up to 40 dB. Four microphones and artificial intelligence are also responsible for noise suppression.
The model is distinguished by high-quality and detailed sound. The device is equipped with 10 mm speakers. The built-in smart module pauses the player if you pull the earphone out of your ear, and plays music again when you put it back in.
Summing up, it is worth saying that this model has many positive characteristics:
high-quality sound;
powerful noise reduction;
perfectly working transparency mode;
an adequate price;
water resistance;
availability of management through the application;
capacious battery.
Thus, Baseus Bowie M2 wireless headphones will be a very good purchase for you.