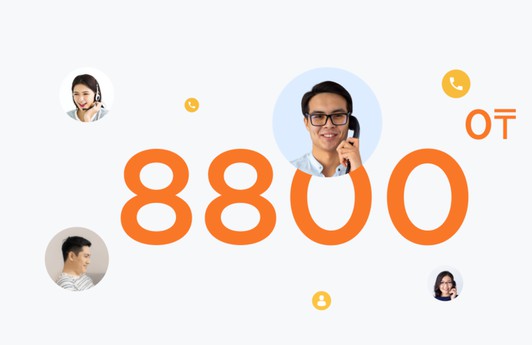 If you receive a lot of calls from customers, constantly communicate with partners from other countries and regions, then you probably would like to have an automatic telephone exchange. But it needs expensive equipment, a separate room. What if all this is not there?
A virtual automatic telephone exchange from the Kaztechnosvyaz company will help you. It uses a cloud service and does not require any resources other than an internet connection. And it also has extensive functionality, in your personal account you can set up call recording, interactive voice menu, auto secretary, as well as track statistics. The station is easily integrated with CRM systems, creating a convenient environment for communicating with customers.
When you connect a virtual automatic telephone exchange, you will receive a free multi-channel number. However, if you want to increase the loyalty of your customers, we advise you to connect the 8800 number.
On average, such numbers receive 30-40% more calls. The reason for this is that such a number is free for customers. That is, they can solve their problem or get an answer to a question that has arisen and at the same time not spend their own money. Of course, this disposes them to the company, and you get the image of a solid organization that cares about its customers and their comfort.
In addition, the 8800 numbers are easy to remember, and also emphasize the federal status of their owner, which also adds solidity to your organization.
Why is it worth buying an 8800 number?
Increase the loyalty of your customers through toll-free. The owner of the number pays for the calls, not the one who makes the call.
The influx of new customers. When using such a number, it is impossible to determine the location of its owner on the territory of the country. This means that your target audience will not be limited to any particular region.
A single phone number. If you have representative offices in several regions, then using the 8800 number you can organize them all into a single telephone network.
Brand status enhancement.
Possibility of simultaneous communication with several subscribers. Customers will not need to endlessly try to call you, they will be instantly connected to a Call center or customer service.
To connect the 8800 number, you will need to register on the Kaztechnosvyaz website. After that, you will get access to a virtual automatic telephone exchange. And our experts will be happy to help you set it up.
Do you think that the price of the 8800 number will be unreasonably high? That's not it. You only need to pay for the connection procedure (from 10 thousand tenge). Room service will be provided free of charge. And the cost of the call will be calculated according to the tariff of your region.
By the way, we are ready to provide you with a free seven-day test period. You will get full access to your personal account, a credit limit of 300 tenge and the opportunity to try all the functions.
Connect the 8800 number and the virtual automatic telephone exchange in a few seconds right now by registering on the Kaztechnosvyaz website. This is a step forward for your business!