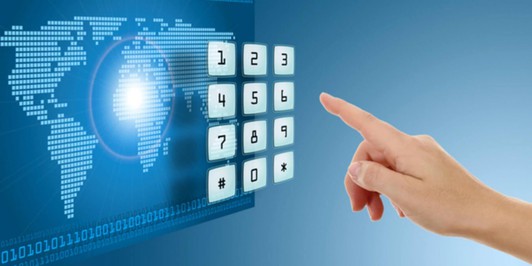 A virtual mobile number is the same SIP number, but the combination of digits looks like it belongs to a cellular operator, not a city PBX. Calls are processed through a cloud PBX. Here you can also connect additional services, such as a multi-channel number, distribution of subscribers to free operators, voice greeting, integration with CRM and much more. Virtual numbers are convenient for business in the field of selling goods and services, as well as for other purposes.
The principle of operation
Before you buy a virtual mobile phone number, you need to figure out how it works:
Anyone who wants to contact your company dials a number.
The call goes to the provider providing the virtual number service.
The provider directs the call to the virtual PBX server.
The PBX redirects the call based on the preset settings. For example, it can assign a sequence to incoming calls, distribute them to free operators, issue a voice menu, etc.
All this happens instantly, because it works in automatic mode and is processed by a computer processor, not manually.
Advantages of the solution
Virtual mobile numbers are a convenient option for doing business around the world, regardless of the geographical location of the company. This is also relevant for local industries. Here are the main advantages of the technology:
multichannel;
operational distribution of incoming calls;
convenient processing of incoming calls directly in the browser or in a special application;
reducing the number of missed calls;
ready-made solutions for integration with customer relationship management systems;
ensuring complete security and confidentiality of calls.
Also, virtual mobile numbers support many additional options, for example, recording telephone conversations, voice greeting and menu, receiving SMS messages, toll-free numbers (0800).
How to choose an operator
A lot of offers on the telecommunications services market complicate the choice of the optimal provider somewhat. Here are some tips for choosing a partner: 
The quality of communication depends on whether the provider works directly with operators or through intermediaries. Therefore, it is necessary to find out how many actors are in this chain. The less, the better.
Spare numbers that the provider can provide will be useful in case of communication failures. In the program, you should set up a temporary redirection from the main number to the spare one.
The "cleanliness" of the room is a guarantee of security for your business. It is desirable that the combination of digits was not previously used, and if it is not, then the number should be "cleared". So, after the previous host, the virtual number is not immediately transferred to the next one. He remains in reserve for another 1-2 months after he continues to receive calls.
Based on the specifics of your business and these tips, you will be able to choose the best option for a mobile virtual number.