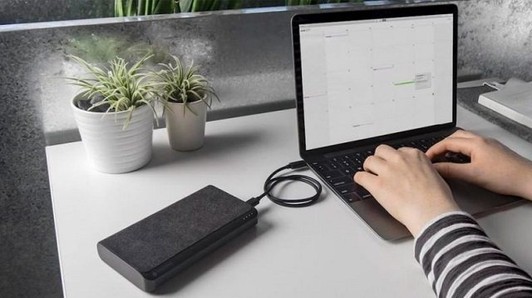 In the context of recent events in Ukraine, rolling power outages are taking place. Therefore, a portable battery is necessary for the constant operability of gadgets. In the article we will tell you which powerbank to choose for a tablet and smartphone.
Power Bank – what is it
Powerbank is a small charger with a battery inside. The built-in battery accumulates, stores electricity and transfers charge to the connected gadget. Externally, the powerbank looks like a small rectangle made of plastic with several USB outputs. Not one, but several devices can be connected to powerful models at once.
It is necessary to choose a portable battery according to the battery capacity, output voltage and current, the number of ports and additional functions.
Battery capacity
The minimum indicator for the simplest power bank is 3000 mA/hour. The maximum is from 30,000 to 50,000 mA/hour. But there are also more expensive portable charging stations, from which even a food processor will work.
To find the right battery charge, you can sum up the capacity of all the batteries of the devices that you plan to connect to the power bank and multiply by two.
Also pay attention to the output current. It is responsible for the charging speed of the connected equipment. The range of indicators for modern power banks is from 1 A to 25 A. The lowest value is guaranteed to restore the charge only for a small push-button phone or a very primitive smartphone.
As for the output voltage, its value can be from 9 to 19 V and higher. It means the capacity of a portable battery. The higher this parameter, the faster the gadget will charge. But you should not be zealous either. First of all, look at the characteristics of the connected device.
Number and types of connectors
Modern models of power banks are equipped with not one, but several USB ports. Moreover, each of them can be designed for a certain type of gadgets, which means it has a different current strength. The latest modern models are equipped with additional built-in cables: microUSB; Apple Lightning/micro USB; USB Type-C.
Recommendations for choosing a powerbank
To charge a smartphone, it is advisable to choose a device with a battery capacity three times higher than the gadget's battery in terms of indicators, with a current strength of 1-1.5 A, with one or two connectors.
To charge the tablet, it is advisable to choose a portable battery with a capacity of 20,000 mA / h, a current of 2-4 A and with a fast charging function that corresponds to the gadget.
Additional functions
When buying, you can also look at additional buns from the manufacturer.
1. It is more convenient when there is a screen on which all information about the charging process is displayed.
2. The presence of a solar battery is especially useful if the powerbank itself is discharged, and there will be nowhere to recharge it.
3. Shockproof and waterproof housing will significantly prolong the life of the device.
Now the pawnbrokers are in high demand, and many Ukrainians will surely receive just such a gift under the Christmas tree. But winter is just beginning, so we recommend not to hope for it. It is much more prudent to acquire equipment for autonomous recharging of gadgets independently and as quickly as possible.
Source: Stylus Blog